RecommendFacebook Twitter LinkedIn
Mobile or Stationary — Measuring Systems for Roughness Measurement according to Your Requirements
The versatile HOMMEL ETAMIC measuring systems allow you to optimize the roughness measurement of your workpieces — for maximum quality in production
You can measure the surface texture of your workpieces using tactile roughness measurement. Various measuring systems are available — from compact portable instruments for mobile applications and stationary systems for complex measuring tasks through to customer-specific specialized measuring stations.
Our roughness measuring instruments are highly precise and reliable. They are ideal for daily use in production and are simple to operate, saving you time, costs and resources. Our many years of experience and extensive expertise mean that we are extremely familiar with the different requirements of our customers. We would be happy to tailor the roughness measurement systems to your workpiece-specific measuring tasks.
Benefits
High precision: Precise and reliable measurement.
Versatile: Mobile and stationary measuring instruments for different measuring tasks.
Compliant with standards: Meet the strict requirements of international standards.
Easy to use: Intuitive state-of-the-art technology and user-friendly software.
Applications
Automotive industry: Measure the surface roughness of your workpieces
Mobile roughness measuring with the Waveline W10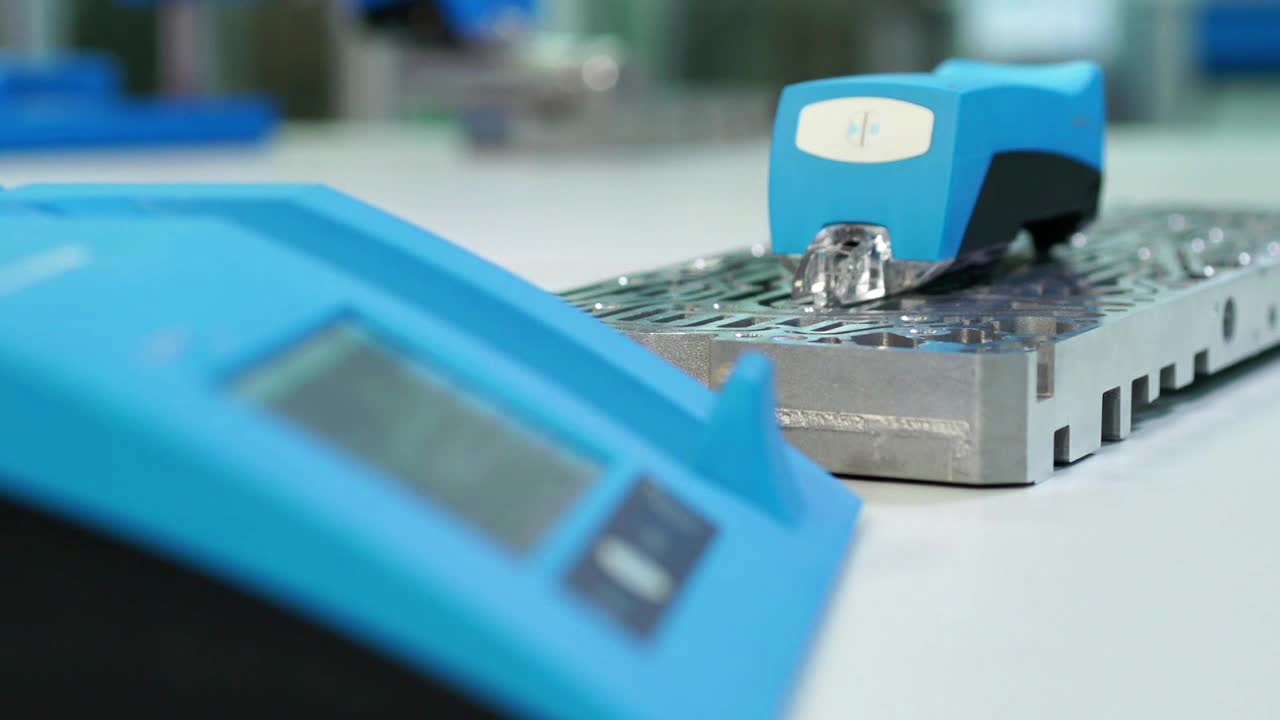 Choose the right mobile device for roughness measurement for your application 
The Waveline W5 - Measuring Instrument for Mobile Roughness Measurement: Light, Small and with a Long-Life Battery Pack
The portable measuring instrument Waveline W5 is easy to use, robust and delivers reliable results – due to it's compact and light design the W5 is perfect for mobile use.
The Waveline W5 mobile measuring instrument impresses with its reliable and highly precise roughness measurement. The system can be positioned precisely on the workpiece and does not slip. It is lightweight with a compact design, which means it can be used easily for mobile applications. The battery pack also means the instrument will not let you down even with frequent use: The charge lasts for more than 800 measurements.

The roughness probe (measuring probe) can be changed easily and quickly, meaning the W5 can be used for countless different measuring tasks. The intuitive click wheel and color display mean that the measuring instrument is particularly easy to use.

As an option, the measuring system can be extended with the Waveline P5 printer. The two components can be connected with each other easily using the latest Bluetooth® technology, allowing you to print out your measurement results on site without the need for any additional connection cables.
Benefits
High measurement quality: Robust, calibrated roughness probe
Compact and light: Particularly portable thanks to the compact design and weight of just 270 grams
Durable and wireless: Up to 800 measurements possible with just one battery charge; print out via Bluetooth® technology
Easy to use: Intuitive graphical user interface and click wheel
Clear: Large color display, allowing easy reading of tolerance evaluation results
Large memory capacity: 5 measuring programs, 100 profiles or 10,000 measurements
The Waveline W10 - Measuring Instrument: Mobile Roughness Measurement for Transverse Probing, Overhead Positions and Vertical Positions
With the mobile Waveline W10 measuring instrument, you can measure your workpiece wirelessly, with a clear result always displayed on the large touchscreen.
The Waveline W10 measuring instrument is ideal for use in mobile roughness measurement, allowing you to monitor the surface quality of your workpieces during the production process itself. The practical measuring system has extensive functions. It offers reliable and precise measurement both during transverse probing and in overhead and vertical positions. The integrated roughness standard allows rapid testing of the instrument, ensuring a consistently high level of accuracy.

The W10 has an integrated thermal printer, which means measurement results can be documented immediately. Tolerance evaluations, profiles, Abbott curves and statistics can be printed out straight away. The measuring instrument offers seven different programs as well as the option of testing the instrument. All functions can be operated via the modern and user-friendly color touchscreen. No time-intensive training is required, which saves you time and money.

As an option, the measuring system can be extended with the Evovis Mobile evaluation software. This PC-based software has been specially developed for mobile measuring instruments, and significantly expands the roughness measurement functions. It functions in online and offline mode, and supports you in your selection of measuring conditions. You can also automatically save your print forms.
Benefits
High-precision: Precisely measure all common roughness parameters
Compliant with standards: Meets the requirements of international standards
Versatile: Allows transverse probing, and overhead and vertical measurements
Practical: Measure without wires; integrated charging cradle for the LV17 traverse unit
Easy to use: Intuitive, modern touchscreen
Clear: Results view with tolerance evaluation and surface profiles
Downloads
Flexible Mobile surface roughness measurement
Product recommendations for combined and stationary roughness measurement
Please contact our experts for advice!