RecommendFacebook Twitter LinkedIn
High-quality measuring instruments ensure standard-compliant form and roughness measurement
The form measuring instruments from HOMMEL ETAMIC check the form and position tolerances of your workpieces – even in tough industrial environments.

From simple roundness measurements to combined form and roughness measurements: We offer the right form measuring instruments for every measuring task. All systems are robust and durable, making them ideal for use in the harshest industrial manufacturing conditions.
The measurement run is largely automated, thus preventing any possible operator influence. You also save time, money and resources. The Turbo Form software allows your employees to analyze any form and position deviations with ease. The program offers a clear and comprehensive result view as well as configurable print forms.
Brake disc measuring with Formline F435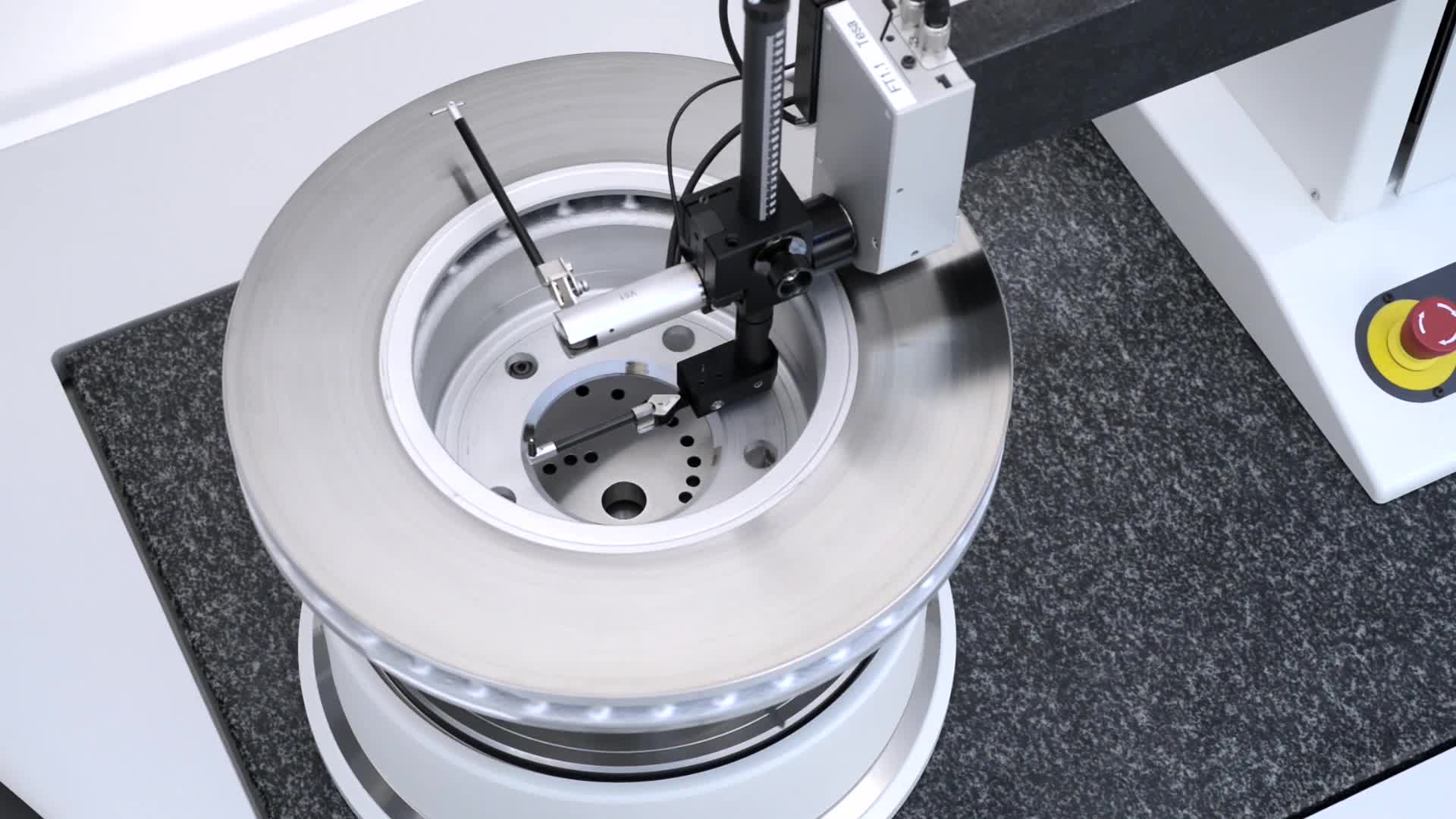 Choose the right system for your application
Formline F435 and F455: form measuring instruments for exact determination of all form and position tolerances
The F435 and F455 form measuring instruments check your workpieces automatically and with utmost reliability, thus ensuring that your production output is always of the highest quality.
Using the HOMMEL ETAMIC Formline F435 and F455 form measuring instruments, you can accurately determine the roundness, cylindricity and flatness of your workpieces. The measuring system aligns the components automatically and checks the form and position tolerances using three CNC-controlled measuring axes. The level of effort required is thus much lower than with conventional devices. The software enables intuitive operation of your measuring system.

The probe arm is connected magnetically so that you can replace it quickly and easily. This connection also protects the probe and probe arm against impact damage. With the new FT1.1 probe generation, you can measure not only the form but also the twist and roughness in a single cycle, thus saving you both time and money.

The optional motorized rotation and tilt module (MDS) provides access to even the most inaccessible probing positions without interrupting the CNC run. The form measuring instruments are supplied either as compact table-top units or integrated in an ergonomic measuring station.
Benefits
Minimal effort: Align and measure workpieces automatically.
Flexible: Optional checking of roughness, waviness and twist.
Modern probe: Quick and secure replacement of probe arm.
Powerful software: Determination of all form and position tolerances.
Applications
Automotive industry: Measurement of the form, roughness, twist and waviness of workpieces.
Formline Roundscan: powerful form measuring instrument for combined form and roughness measurement
The roundscan measures form, roughness and twist in a single measuring run lasting less than a minute.
To safeguard the consistently high quality of your workpieces, you require accurate and reliable measuring systems. The Formline Roundscancombines the form and roughness measurement in a single measurement run. You are able to measure the form, roughnessand twist of the component with a single probing system.

The systems centers and levels your workpieces automatically. When compared with conventional measuring instruments, the time required for leveling is reduced by 60 percent. The CNC axes operate with great speed and utmost precision. This allows you to perform detailed inspections of large workpieces such as gearshifts, pistons and bearing rings. The ergonomic measuring station ensures that your employees can operate the device both easily and comfortably. The measuring process is largely automated, thus saving both time and resources.

In its basic configuration, you can use the Jenoptik Formline Roundscanfor pure form measurements with 1μm resolution in the R/Z axis and 20,000 points in the C axis. The high-resolution model is suitable for combined form and roughness measurements with 0.1μm resolution in the R/Z axis and 360,000 points in the C axis. This model is also equipped with an integrated linear scale and active level control.
Benefits
Precise: HR model with high resolution for measuring axes.
Quick measuring times: Short centering and leveling cycle as well as fast CNC axes.
Configurable: Three vertical measuring axis lengths; extensive software options.
Applications
Automotive industry: Form and roughness measurement of components.
Downloads
Product recommendations for form and roughness measurement
Benefits
High-precision: Even complex workpieces are measured with great accuracy.
Fast: Automatic processes and rapid measurements save time.
Robust: Ideally suited for the tough production conditions encountered in industry or in the measuring room.
Universal: Suitable for applications ranging from simple, manual roundness measurements to fully automatic CNC measurements.
Applications
Automotive industry: Measurement of form and position tolerance, roughness and twist.
Product recommendations
Please contact our experts for advice!