High-quality measuring systems fur unuquivocal measurement of form and positonal tolerances
Form measuring instruments from HOMMEL ETAMIC check form and position tolerances of your workpieces – even in tough industrial environments.
We provide you with solutions for a wide range of tasks in form measurement – from the fully automatic CNC measuring station for all form and positional tolerances to combined form and roughness measuring systems to solutions for special crankshaft and camshaft measurements.
Formline solutions achieve high measurement accuracy even in production environments. At the same time, they are easy to operate thanks to user-friendly software and can be adapted to numerous measuring tasks with a wide range of accessories.
For special requirements, we develop measuring systems that are specially tailored to your needs. You benefit from our extensive knowledge in the development of special solutions - for example for brake discs.
Our form measuring systems are equipped with a high-precision rotary table with air bearings and are extremely robust. They are suitable both for measuring tasks in series production and for use in the measuring room with frequently changing measuring tasks.
The systems offer a high degree of automation with automatic workpiece alignment and CNC-controlled measuring axes. With the optional tilt and rotation module, even hard-to-reach probing positions are reached without interrupting the CNC run.
Equipped with an optional double-tipped probe arm, the form measuring systems also perform roughness, waviness and twist measurements – all in one setup.
Brake disc measuring with Formline F435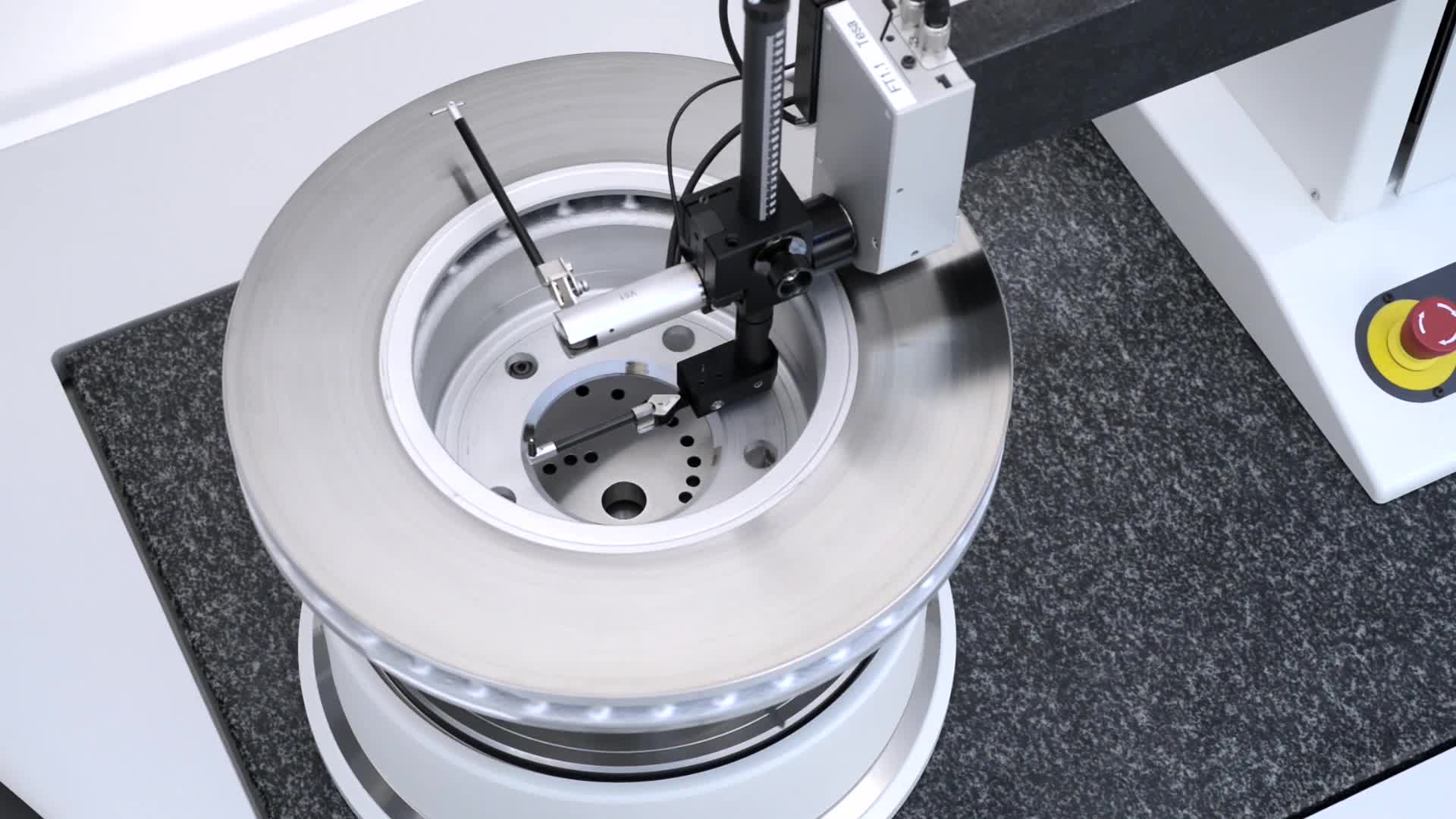 Form measuring systems for your application
Formline F435 and F455: automatic measurement of all form and positional tolerances
Automatic and reliable shape measurements for numerous applications
With automatic workpiece alignment and CNC-controlled measuring axes, the Formline F435 and F455 measuring systems offer a high level of automation. With the optional motorized MDS tilt and rotation module, even probing positions that are difficult to access are reached without interrupting the CNC run.
The probe system with magnetic coupling not only allows easy and fast changing of the probe arms but also provides additional protection in case of collision. With the optional double-tipped probe system, not only form but also roughness and waviness measurements can be performed – all in one setup.
Depending on your requirements, the F435 and F455 measuring systems are available with two different measuring heights and either as a compact table-top unit or integrated into an instrument table with damping.
Benefits
Minimal effort: Align and measure workpieces automatically.
Flexible: Optional checking of roughness, waviness and twist.
Modern probe: Quick and secure replacement of probe arm.
Powerful software: Determination of all form and position tolerances.
Formline Roundscan 535/555/590: highly efficient solution for combined form and roughness measurement
Fast measurement of form, roughness and twist in one measuring run
Formline Roundscan measuring systems offer fully automatic measurements with an innovative probe system for efficient measurement of form, roughness and twist in one setup. Thanks to automatic, very fast centering and leveling as well as fast and extremely precise CNC axes, the systems deliver measurement results in the shortest possible time.
With fully automatic probe positioning, probe force freely adjustable via software and switchable probe direction, the systems allow flexible access to external and internal measuring points. The high-precision rotary table with air bearings and the high axis resolution ensure extremely accurate measurement results.
The ergonomic standing and sitting workstation with height-adjustable and tiltable evaluation unit, integrated probe arm rest and operating panel with the most important functions ensures comfortable, safe operation of the measuring system. The vertical measuring axis is available in three heights as required.
Benefits
Precise: HR model with high resolution for measuring axes.
Quick measuring times: Short centering and leveling cycle as well as fast CNC axes.
Configurable: Three vertical measuring axis lengths; extensive software options.
Downloads
Crankshaft and camshaft measuring machine
The fully automatic, high-resolution Formline CFM3010 measuring system flexibly and reliably determines form and position deviations of different workpiece types. Thanks to its outstanding basic accuracy and robust design with vibration decoupling, the system is suitable for use in the measuring room or in the production environment.
Optimized CNC processes in conjunction with high measurement and travel speeds as well as fast measurement value recording ensure short measuring cycles.
Extensive accessories such as followers and drivers ensure safe handling of complex workpieces.
Benefits
Precise: high-resolution measuring system for exact results
Reliable measurement results: no mechanical transverse forces
Constant: repetitive accuracy of up to 0.3 µm
Reliable analysis: detection of form and dimensional deviations using the Turbo Shaft software
Robust: suitable for use in metrology lab and production environments
Please contact our experts for advice.