RecommendFacebook Twitter LinkedIn
Roughness and Contour Metrology
With our measuring instruments, you can measure the roughness and contours of your components in a single probe step or in separate measurement runs.
HOMMEL ETAMIC measuring instruments can be used to measure either the roughness or contours of your workpieces. We offer versions that work in separate measurement runs and models that measure in a single probe step. You can also choose between mobile and stationary systems for simple and complex measuring tasks.

Advantages of Our Measuring Instruments

All of our measuring systems are highly precise and offer repetitive accuracy. They can detect even the smallest deviations from the standard, ensuring that you produce components with consistently high quality. The measurement run is largely automated, which prevents operator errors. You also save time, money and resources.
The instruments have a modular design, which means they can easily be integrated into existing measuring systems, or can be expanded. You can configure the measuring station according to your requirements. If required, we can develop and manufacture measuring instruments for contour and roughness measurement that precisely meet your requirements. You will also benefit from our years of experience and our comprehensive expertise.
Automated Solutions
Waveline W920RC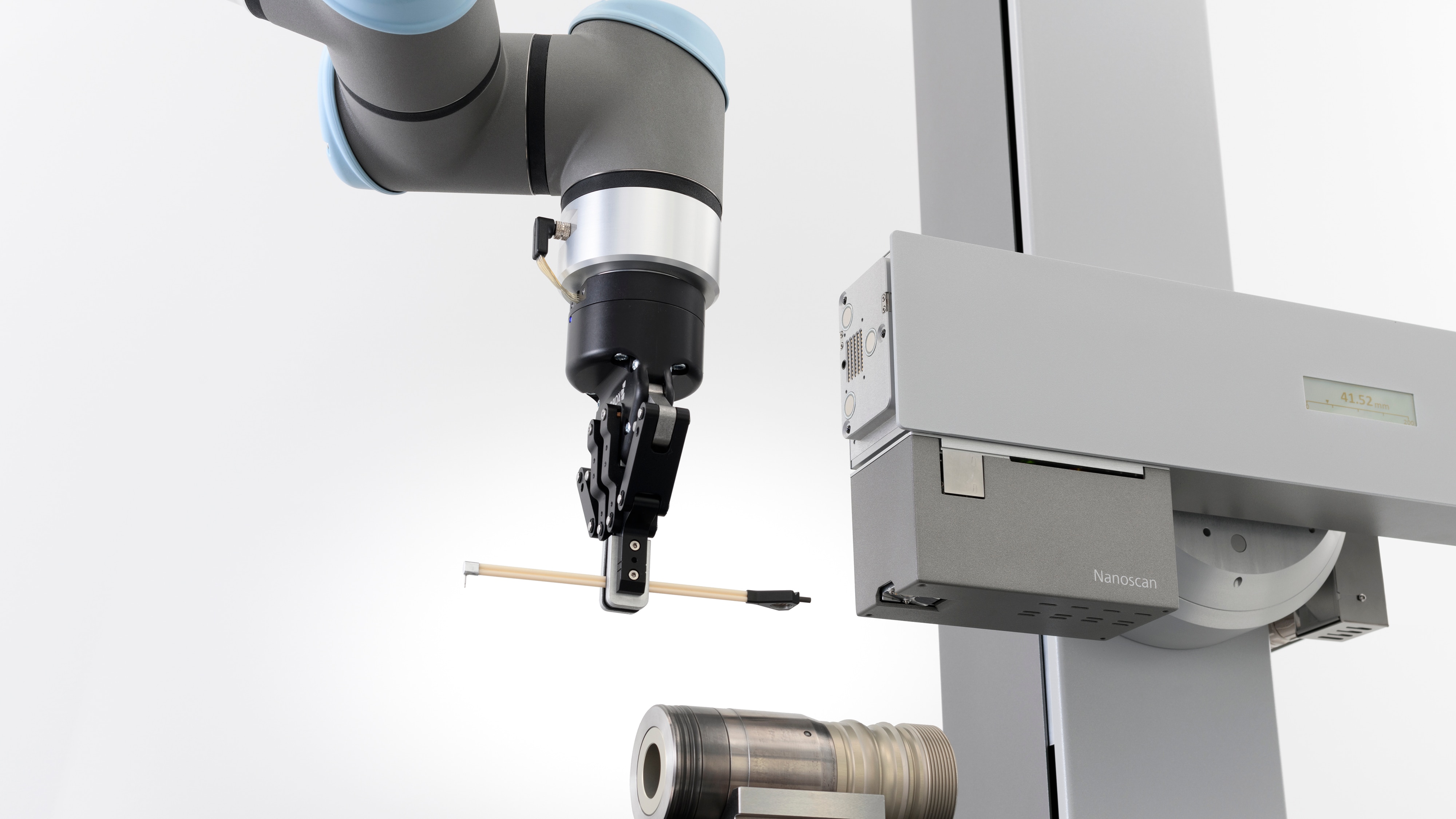 Waveline W820C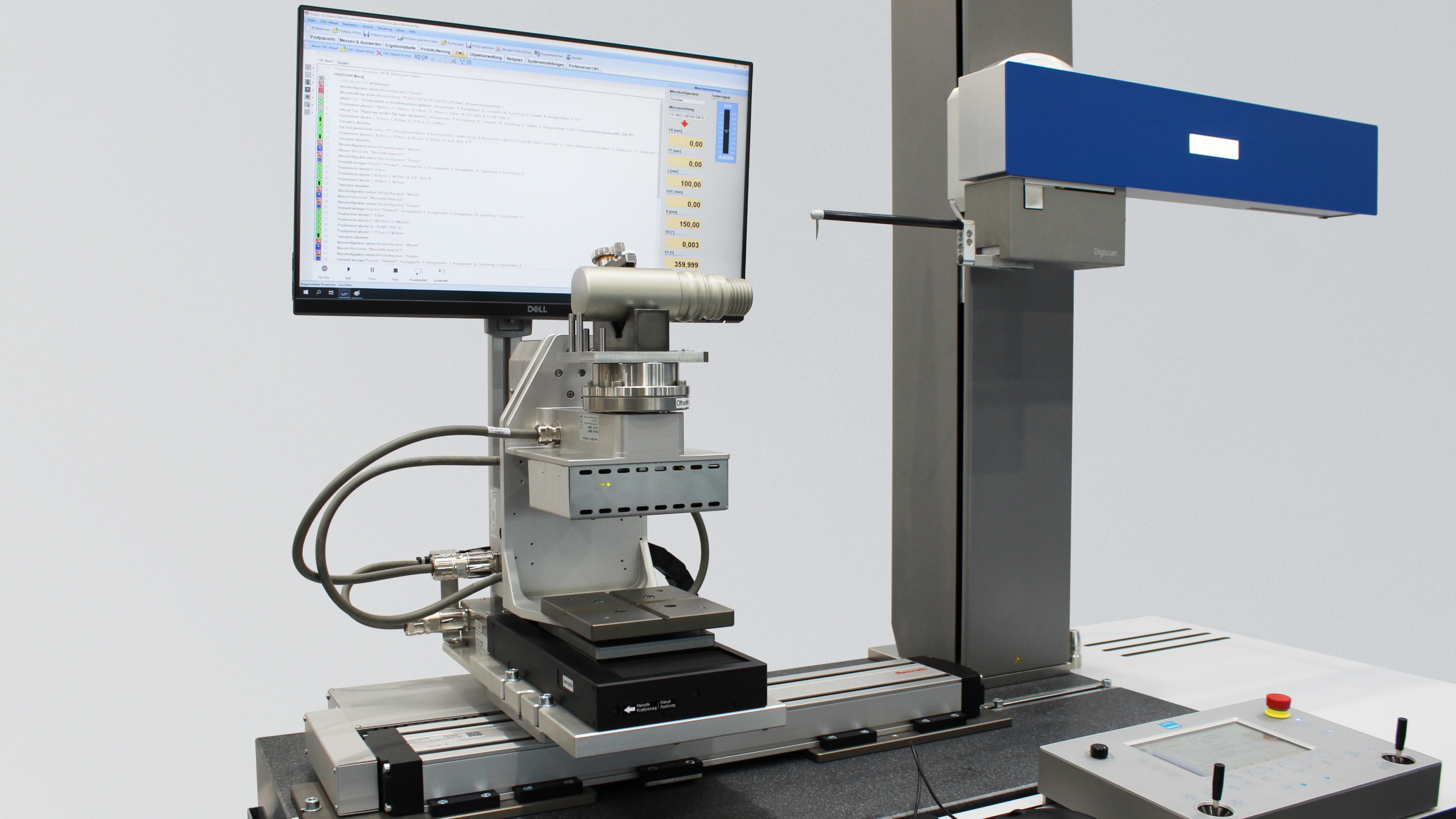 Mobile or Stationary — Measuring Systems for Roughness Measurement according to Your Requirements
The versatile HOMMEL ETAMIC measuring systems allow you to optimize the roughness measurement of your workpieces — for maximum quality in production
You can measure the surface texture of your workpieces using tactile roughness measurement. Various measuring systems are available — from compact portable instruments for mobile applications and stationary systems for complex measuring tasks through to customer-specific specialized measuring stations.
Our roughness measuring instruments are highly precise and reliable. They are ideal for daily use in production and are simple to operate, saving you time, costs and resources. Our many years of experience and extensive expertise mean that we are extremely familiar with the different requirements of our customers. We would be happy to tailor the roughness measurement systems to your workpiece-specific measuring tasks.
Benefits
High precision: Precise and reliable measurement.
Versatile: Mobile and stationary measuring instruments for different measuring tasks.
Compliant with standards: Meet the strict requirements of international standards.
Easy to use: Intuitive state-of-the-art technology and user-friendly software.
Applications
Automotive industry: Measure the surface roughness of your workpieces
Mobile roughness measuring with the Waveline W10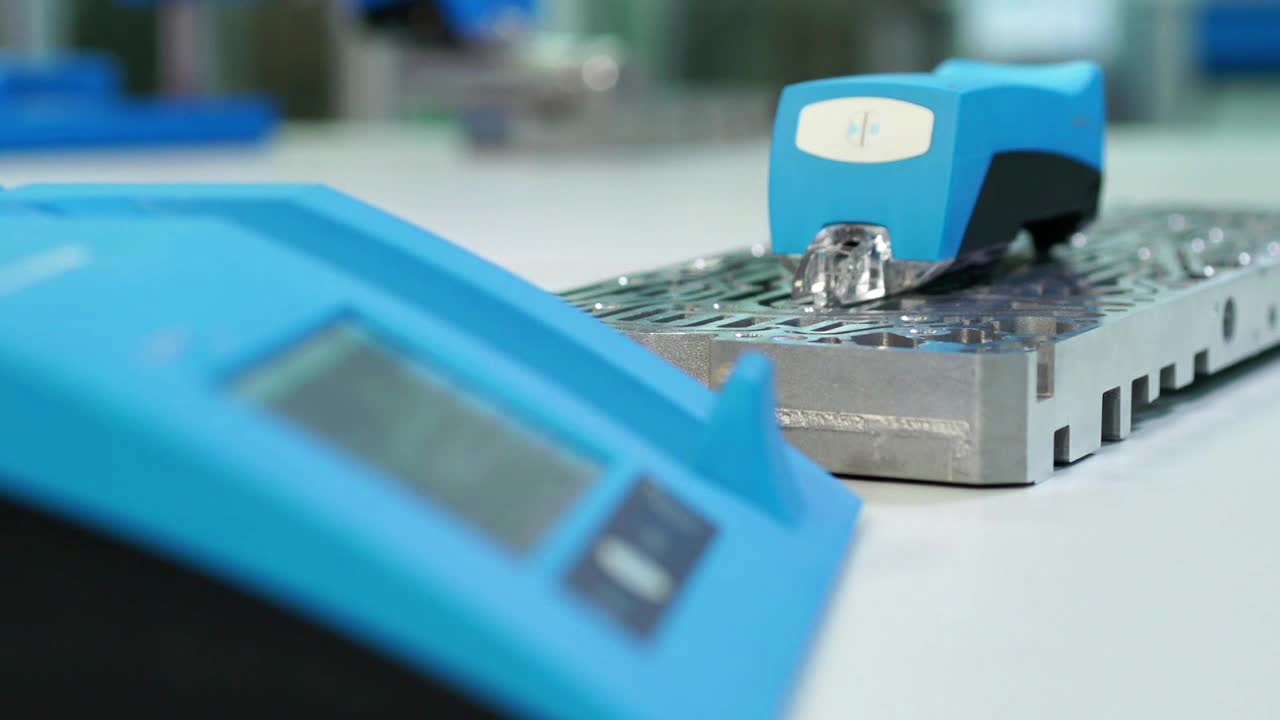 Choose the right mobile device for roughness measurement for your application 
The Waveline W5 - Measuring Instrument for Mobile Roughness Measurement: Light, Small and with a Long-Life Battery Pack
The portable measuring instrument Waveline W5 is easy to use, robust and delivers reliable results – due to it's compact and light design the W5 is perfect for mobile use
The Waveline W5 mobile measuring instrument impresses with its reliable and highly precise roughness measurement. The system can be positioned precisely on the workpiece and does not slip. It is lightweight with a compact design, which means it can be used easily for mobile applications. The battery pack also means the instrument will not let you down even with frequent use: The charge lasts for more than 800 measurements.

The roughness probe (measuring probe) can be changed easily and quickly, meaning the W5 can be used for countless different measuring tasks. The intuitive click wheel and color display mean that the measuring instrument is particularly easy to use.

As an option, the measuring system can be extended with the Waveline P5 printer. The two components can be connected with each other easily using the latest Bluetooth® technology, allowing you to print out your measurement results on site without the need for any additional connection cables.
Benefits
High measurement quality: Robust, calibrated roughness probe
Compact and light: Particularly portable thanks to the compact design and weight of just 270 grams
Durable and wireless: Up to 800 measurements possible with just one battery charge; print out via Bluetooth® technology
Easy to use: Intuitive graphical user interface and click wheel
Clear: Large color display, allowing easy reading of tolerance evaluation results
Large memory capacity: 5 measuring programs, 100 profiles or 10,000 measurements
The Waveline W10 - Measuring Instrument: Mobile Roughness Measurement for Transverse Probing, Overhead Positions and Vertical Positions
With the mobile Waveline W10 measuring instrument, you can measure your workpiece wirelessly, with a clear result always displayed on the large touchscreen
The Waveline W10 measuring instrument is ideal for use in mobile roughness measurement, allowing you to monitor the surface quality of your workpieces during the production process itself. The practical measuring system has extensive functions. It offers reliable and precise measurement both during transverse probing and in overhead and vertical positions. The integrated roughness standard allows rapid testing of the instrument, ensuring a consistently high level of accuracy.

The W10 has an integrated thermal printer, which means measurement results can be documented immediately. Tolerance evaluations, profiles, Abbott curves and statistics can be printed out straight away. The measuring instrument offers seven different programs as well as the option of testing the instrument. All functions can be operated via the modern and user-friendly color touchscreen. No time-intensive training is required, which saves you time and money.

As an option, the measuring system can be extended with the Evovis Mobile evaluation software. This PC-based software has been specially developed for mobile measuring instruments, and significantly expands the roughness measurement functions. It functions in online and offline mode, and supports you in your selection of measuring conditions. You can also automatically save your print forms.
Benefits
High-precision: Precisely measure all common roughness parameters
Compliant with standards: Meets the requirements of international standards
Versatile: Allows transverse probing, and overhead and vertical measurements
Practical: Measure without wires; integrated charging cradle for the LV17 traverse unit
Easy to use: Intuitive, modern touchscreen
Clear: Results view with tolerance evaluation and surface profiles
Downloads
Flexible Mobile surface roughness measurement
Waveline W800 and W900 — for reliable results in the minimum amount of time
The new generation of Waveline W800 and W900 were designed to meet a variety of customer requirements for flexible, precise and fast measuring processes. All measuring station configurations are modular and can easily be expanded at a later stage.
An axis speed that is more than six times faster and an improvement in the ambient noise of approximately 30 percent demonstrate the significant performance improvement in comparison to the existing models. In addition, all measuring station configurations are modular and can easily be expanded at a later stage. The new W800 and W900 model series offers a suitable probing system for every field of application. It is particularly suited to many different measuring tasks in the measuring room, as the models typically include manual or semi-automated measuring processes. An additional benefit is the ease with which the probing systems can be swapped via a new magnetic quick-change adapter. This lends a very high degree of flexibility to daily routine measurements.
Benefits
High precision:

Accurate repeat measurement results.

Versatile

application:

Can be used for roughness and contour measurement.

Automated measurement run:

Probe arm rises and falls independently.

Flexible:

Probe arms are easy to change.
Fields of Application
Bearing industries:

Sleeve bearing, slider bearing, ball bearing.
Choose your right system for your application
Waveline W800 - modular concept for 100-percent accuracy of fit
W800 measuring systems have been developed for roughness and contour measuring tasks associated with typically manual or semi-automatic measuring processes.The systems are easy to operate and offer a great variety of analyses thanks to the performant measuring and evaluation software Evovis. The result is the highest standard of measuring accuracy in the shortest time.

The quick-change adapter enables probing systems to be swapped over without having to use any tools. Probe arms and probing system are equipped with magnetic coupling making the exchange of probe arms easy and fast. This means you can take a flexible approach towards all of your measuring requirements.

The system automatically detects the intelligent contour probe arms with RFID identification and adjusts the optimal measurement conditions. This means that operating errors and incorrect measurements can be practically eliminated.
Waveline W900 - fast measuring axes for high-end performance
The W900 series has been developed for high-performance roughness and contour measuring tasks, e.g. in automated process chain settings. It has two interfaces that allow the probing systems to be coupled, as well as further optional axes for automating measurement processes.

The combination of the Z column with the probing systems, the configuration of which guarantees particularly good access to the measuring positions, extends the scope of functions for measuring vertical distances.
Benefits
Minimum measuring cycles
Maximum accuracy
Maximum flexibility
QCA Quick Change Adapter
Downloads
Product views
Measuring Instruments for Combined Roughness and Contour Measurement
Roughness and contour measurement in a single process — the measuring instruments offer two different probing systems.
Waveline Wavemove - measurement in one process
Waveline Wavemove: Fully Automated Measurement of Large Workpieces
The Wavemove measuring instrument allows you to simultaneously measure the contours and roughness of your cubic or wave-shaped workpieces.
The Waveline Wavemove measuring systems allow individual, CNC-controlled, fully automated roughness and contour measurements to be performed directly at the production line. Up to eight independent CNC axes position the workpiece and measuring system at all required measurement positions, ensuring precise measurement of all necessary features— fully automated without any operator intervention.

Workpiece-specific fixing devices make it easier to load and unload workpieces. If required, the workpieces can be automatically identified and assigned to the quality data.

These measuring systems are particularly suitable for the measurement of crank shafts, cylinder heads and cylinder blocks. Thanks to the robust design and the optional safety equipment, the measuring systems can be operated in the production environment itself. Small quality control loops and fully automated measurement runs allow you to take the lead in quality management.
Benefits
Efficient: Combined roughness and contour measurement
Fully automatic: Multi-axis CNC control ensures high level of automation
Robust: Measuring systems also suitable for tough production conditions
Modular: System can be individually tailored to your specific requirements
Application Example
Customized and fully automatic
If you have specific requirements, then we have the right metrological solution. We can give you a specific example to show you how this solution might look. Our client from the automotive industry commissioned us to configure a fully automatic roughness and contour measuring station for the measurement of its cylinder heads.
Requirements of the measuring station
Random sample measurement in the measuring room close to production area
Loading of the measuring station via existing overhead crane
Fully automatic measurement and evaluation of the defined roughness and contour characteristics on cylinder heads, including valve seat
Measuring run in a single clamping operation in compliance with the specified cycle time
No retrofitting of the probing systems
Low employee involvement thanks to automated processes
Compliance with the space restrictions at the installation site
Safety equipment for safe measurement runs (for operator and component)
Solution — The Waveline Wavemove
With up to eight fully automatic movable axes, the Waveline Wavemove can accommodate as many measuring points as required and measure both roughness and contours in a single measuring run. The high degree of flexibility in the positioning of all axes means that the probes can access almost any point on the workpiece.
Optimally adapted: Measuring station configuration in accordance with the local specifications
Adapting the measurement set-up to local conditions:
Compliance with the maximum floor space and height
Extremely low design allows the loading of the measuring station via the overhead crane at the specified installation height
Measurement layout on the granite plate is adjusted for the measuring tasks
Ergonomic layout with enclosure for PC, control system and accessories
Wavecontrol joystick control panel for a simple and secure approach to the measuring position with a view of the workpiece
Swiveling workpiece holder (B-axis) for fully automatic measurement of the edges and radii of the valve seat
Active level control with integrated vibration damping for compensation of common building vibrations
Eight CNC-controlled axes with high levels of positioning accuracy to control any number of measuring positions
Integrated storage for safe retention of the roughness and contour standards
Clear assignment for clear measurements: Roughness and contour probing systems with integrated probe arm detection
Probe arm detection via RFID technology with automatic assignment of the measuring task
Enables reliable measuring runs, as unintentional manipulations and unwanted collisions are avoided
No retrofitting of the probing systems, roughness and contour probes are operated in parallel
Sophisticated layout for the exclusion of interference contours during roughness measurement
Secure processes with automatic identification of components: Clamping device with integrated scanning.
Specially developed clamping system for holding the cylinder heads mounted on adapter plates
Secure fixing of the component to the mounting plate: Clamping and release only possible in 0° position so that injuries or damage to machines or parts are ruled out
Automatic clamping of the component
Automatic detection of the workpiece via RFID code (e.g. type and processing level) in the adapter plate, so the component can be clearly assigned to a measuring program
Technical data
Typical Crank Shaft Measurement Tasks
Roughness measurement of contact surfaces, and main and pin bearings
Contour measurement: crowning of groove radii, main and pin bearings
Twist measurement on sealing surfaces
Typical Cam Shaft Measurement Tasks
Roughness measurement of bearing points, grooves and on the cams
Waviness measurement of cams or chatter marks
Typical Cylinder Block Measurement Tasks
Roughness measurement of crank shaft bearing points
Roughness and waviness measurement on sealing surfaces
Roughness measurement in cylinder bores
Downloads
Benefits
Save time and costs: Combined roughness and contour measurement
Minimal effort: The measuring instrument is largely automated
Versatile: Adapt to various measuring tasks
Robust: Ideal for use in production and in the
Fields of application
Automotive industry: Measure roughness and contour characteristics in one measurement run
Please contact our experts for advice.